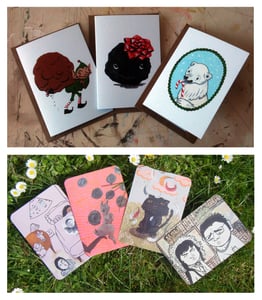 £

3.00
4 A6 postcards featuring reproductions of original paintings by Alison Erika Forde with rounded finish corners:
♥ Wearing a frown - an obsessive Pierot fan
♥ Rabbit rolling - what kind of monster would play boules with bunnies?
♥ Feathers - pesky cat loves to torment rainbow feathered birds
♥ Shiteye - one look can say it all
All limited edition. Printed in the UK.
_______________________________________________________
*SOLD OUT* Christmas cards for those looking for something a little different this festive season!
A6 folded cards on a heavy stock that has a sophisticated matte finish, each comes with an A6 Kraft envelope. The cards have blank insides ready for your own messages:
♥ Elf scamp - is he making with that sac of goodies? surely not!
♥ Christmas coal - If you've been bad this year!
♥ Polar bear - enjoying a candy cane a little too much!