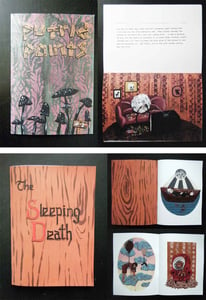 £

5.00
PUTRID PAINTS ISSUE 1 is a 16 page full colour story zine about that one time The Moon ran away!
Story by artist Seleena Laverne Daye and original artwork by Alison Erika Forde.
*SOLD OUT* THE SLEEPING DEATH is a 12 page full colour picture zine.
Inspired by Snow White's wicked Stepmother's potion, our sleeping state and bereavement.
It is a compilation of themed original hand-painted images, reproduced to a high quality, to make a unique and interesting collectible keepsake!